Shopping
Itaewon has been experiencing various changes since the beginning of this century.
As a number of foreigners with diverse nationalities has increased, and new global products have been developed including food, antiques, traditional product, clubs, and bars.
Itaewon is known as an international district in which diverse cultures are communicated or the district of colors which never sleep. In addtion, there has been continuous effort from government and civilians to create an image of tourist special place.
Itaewon is now becoming 'a herb district for foreign tourists' in which you can find one- stop-service including shopping, tour, lodging, and information service, as well as to 'a fusion cultural district' in which diversity from different places over the world are accepted and communicated.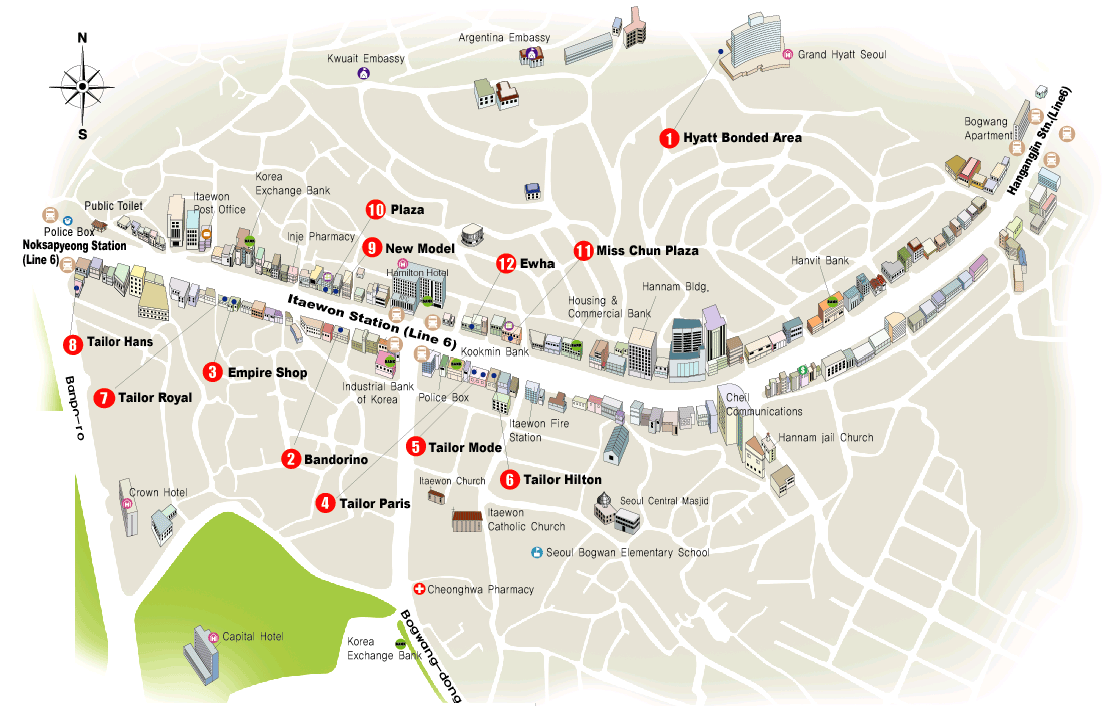 1. Hyatt Bonded Area
Fine Exporting Goods at Wholesale Prices
Located in front of Grand Hyatt Seoul, the shops of this area are selling high quality bonded goods at wholesale prices. Shops do not have their names but only numbers with which they are distinguished. This area is very famous for men's clothes, and since these clothes are bonded ones, sizes and designs are suitable for foreigners. You can enjoy their extensive varieties of selections. Grand Hyatt, Itaewon-dong, Yongsan-gu, Seoul, Korea
Hours
11:00 ~ 21:00
Shops
About 10
Parking
Adjacent Parking Lot
Credit Card
Major Credit Card
Language
English, Japanese
How to Get Here
In front of Grand Hyatt Seoul
Men's Clothes
Jacket, Trench Coat, Knit Wear, Sweater, Shirt, Trousers, Bag, Sports Gear l
2. Bandorino
Custom-made suits with plus sized & various colors, you can order designs from books and magazines. 128-13, Iteawon-dong, Yongsan-gu, Seoul, Korea
Tel
02-795-7669
Hours
10:30~21:00
Close
Open Everyday
Parking
Adjacent Parking Lot
Credit Card
Major Credit Card
Language
English, Japanese
How to Get Here
Subway line 6 Itaewon Station (Exit No. 4),
the opposite side of Hamilton Hotel
Products
Custom-made : 60,000~100,000 won
Ready-made tailored clothing : 100,000~200,000 won
Empire shop
Hip-hop fashion, T-shirts, Jeans 64-19, Iteawon-1dong, Yongsan-gu, Seoul, Korea
Tel
02-797-8642
Hours
09:00~21:00
Close
Open Everyday
Parking
Hamilton Hotel Parkingt
Credit Card
Major Credit Card
Language
English, Japanese
How to Get Here
Go to Samgakji direction about 500m from Exit No3.
of Itaewon Station of Subway Line 6
Products
Specialty store for hip-hop clothing
Tailor Paris
We have been putting our best efforts to make best quality suit for 18 years for our customers from all over the world. 127-5, Itaewon-dong, Young san-gu, Seoul, Korea
Tel
02-797-2602
Hours
09:30~20:30
Close
National holiday
Parking
behind the store
Credit Card
Major Credit Card
Language
English, Japanese
How to Get Here
Subway line 6 Itaewon station Exit No. 3, Next to Kookmin Bank
Tailor Hilton
With over 30 years of history, Tailor Hilton has satisfied over 450 celebrities from all over the world. Leather jacket for regional motorcycle police head-quarters, Leather jacket for 'the Blue House' and 'the Ministry of National Defence', Best quality, whole-sale, Retail, We also export our products. 127-5, Itaewon-dong, Yongsan-gu, Seoul, Korea
Tel
02-792-1196 / 02-793-1196
Hours
09:00~21:00
Close
Open Everyday
Parking
Car
Credit Card
Major Credit Card
Language
English, Japanese
How to Get Here
Subway line 6 Itaewon station (Exit 3),
60m toward the fire station
Products
Custom-made suit, Cloth for special occasion, custom-made leather products, name-brand imported leather products
Tailor Royal
27 years of tradition in the same building and the same place customer- first service, comfortable and high-quality products.
Address : 64-52, Itaewon-dong, Yongsan-gu, Seoul, Korea

Tel
02-798-1565 (FAX 02-749-7089)
Hours
09:00~21:00
Close
New Year's Day, Seolnal, and Chuseok only
Parking
Adjacent Parking Lot
Credit Card
Major Credit Card
Language
English, Japanese
How to Get Here
Subway line 6 Itaewon station(Exit 4), 300m toward 'the Ministry of National Defense', The opposite side of a Foreign Exchange Bank
Products
Suits : 350,000~600,000 won
Coat : 350,000~600,000 won
Shirts : 25,000~30,000 won
Tailor Hans
Abundant choices of the best material (domestic & imported clothe), Reasonable price for comfortable and elegantly designed suits. We have many steady customers in and out of country.

Address. 34-16, Itaewon-dong, Yongsan-gu, Seoul, Korea

Tel
02-793-0830
Hours
09:00~20:30
Close
Open Everyday
Parking
Adjacent Parking Lot
Credit Card
Major Credit Card
Language
English, Japanese
How to Get Here
Subway line 6 Noksapeong station (Exit 3) 3 minutes from the station, the opposite side of a three-way junction
Products
Suit : 300,000~950,000 won
Dress coat : 350,000~990,000 won
Shirts : 30,000~180,000 won
New Mode
Men's clothes, domestic and imported clothes Address : 119-19 Itaewon-dong, Yongsan-gu, Seoul, Korea

| | | | |
| --- | --- | --- | --- |
| Tel | 02-790-4700 | Hours | 09:30~22:00 |
| Close | Open Everyday | Parking | |
| Credit Card | Adjacent Parking Lot | Language | English, Japanese |
| How to Get Here | From Hamilton Hotel, 150m toward the Ministry of National Defense building | Products | - |
Plaza
Suits and formal dress for men and women
Address : 118-26, Itaewon-dong, Yongsan-gu, Seoul, Korea

| | | | |
| --- | --- | --- | --- |
| Tel | 02-795-0711 | Hours | 09:00~20:00 |
| Close | Open Everyday | Parking | Adjacent Parking Lot |
| Credit Card | Major Credit Card | Language | English, Japanese |
| How to Get Here | From Hamilton Hotel, 100m toward the U.S. Army Base | Products | - |
Miss Chun Plaza
Specialty store for big-sized clothes. Know-how from 20 years of tradition, the best service. You will be satisfied. Ladies Clothes
Address : 123-16, Itaewon-dong, Yongsan-gu, Seoul, Korea

| | | | |
| --- | --- | --- | --- |
| Tel | 02-796-2889 / FAX 02-796-2291 | Hours | 09:00~22:00 |
| Close | Open Everyday | Parking | Adjacent Parking Lot |
| Credit Card | Major Credit Card | Language | English, Japanese, Multinational Language |
| How to Get Here | Subway line 6 Itaewon station, toward Cheil Comm., the opposite side of Itaewon fire station | Products | - |
Ehwa
Ehwa style with 20 years tradition, Dress coat for party, concert, and special occasion, Shawls, tops, handmade T-shirts, custom-made TP and blouses. Produce clothes for act and actress working for SBS.
Address : 123-32, Itaewon-dong, Yongsan-gu, Seoul, Korea

Tel
02-795-1640
Hours
10:00~22:00
Close
Open Everyday
Parking
Hamilton Hotel Parkingt
Credit Card
Major Credit Card
Language
English, Japanese
How to Get Here
100m from Subway line6 Itawon station (Exit 2), the opposite side of Kukmin Bank
Products
Dress 100,000~500,000 won
Formal ware 150,000~300,000 won
T-shirts for Ladies 30,000~120,000 won