What to See
In our district, Yongsan-ku retains and offers a unique cultural heritage that lives on through times and history.
Embracing Itaewon is Mt. Namsan, where parks and natural vegetation are well preserved. On its top is located Seoul Tower, from which the entire City of Seoul that stands for 600 years of tradition and history comes under a single view. Furthermore, Hangang River that flows through the heart of Seoul and by the side of Itaewon offers facilities for community and leisure activities for the citizens of Seoul. At nighttimes, inner city cruise liners add much to the romantic views of Seoul from within the viewing range of Hangang River.
Hyochang Park housing the honorary tombs of 7 martyrs and patriots including Baekbum and Yongsan Family Park with 90,000 pyung area located in Yongsandong 6-ka are decorated with magnificent art works of world renown artists and pedestrian walks made available for the citizens to take advantage of some great natural life amenities in the heart of Seoul. Presently in the Yongsan Family Park, construction for the National Central Museum is underway to be completed by the year 2003. Through the War Memorial and Samgakji Gallery Streets from Itaewon are located the Yongsan Electronic Shopping Centers that are essentially the leader of the future IT industry.
On their 30,000 some pyung area, over 6,000 businesses focusing on not only high technology industrial products and equipments such computers and telecommunications equipments, but also home appliance, light equipments and machineries are located. If you are looking for something else besides Itaewon, Yongsan is the place where you could experience the past and the present. Visiting Yongsan will be perhaps be the greatest chance to experience a great variety of culture you will ever have.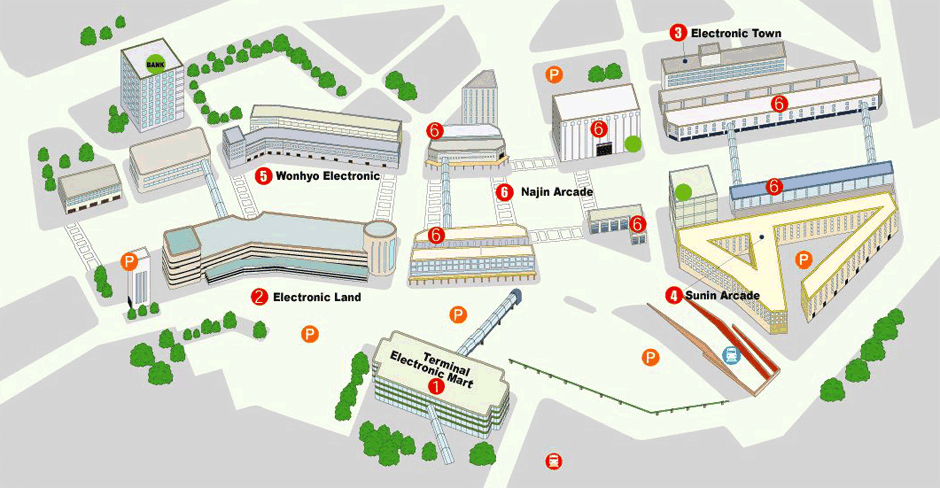 Terminal Electronic Mart
Yongsan Electronic Market is the biggest electronic market in Asia. You can find all kinds of electronic products including computers & peripherals, digital cameras and cell phones, and all famous brand names such as SONY and SAMSUNG can be found here too. The market consists of several special arcades, and each arcade deals with special products. They are ready to meet the needs of individual buyers as well as companies. Beside hardware market, software market is also very famous. However, the most attractive aspect of Yongsan Electronic Market is that it provides customers with cheaper prices. Generally, the price of the market is 20% cheaper than normal markets. Sometimes, shoppers can buy specially marketed products at 30% to 40% cheaper. Seoul Metropolitan Government has a plan to enlarge the area with venture company complexs, convention centers and shops. It will be a rare opportunity to see cutting edge technologies and most up-to-dated products in one place.
Electronic Land
Department store version of electronic market. It consists of 2 parts : main and new one, and enjoys fame for its clean and convenient shopping atmosphere. It has over 420 shops.
Main Building
New Wing
B1
Game Related Product, IC and Parts
IC, Network Equipment, Semiconductor
1F
Home Appliance, Jewelry, Mobile Communication
Home Appliance
2F
Audio Device, Sound Device, Home Appliance
Audio Device, Home Appliance, Sound Device
3F
Computer Peripheral
Customized Computer and Computer Peripheral
4F
Furniture
5F
Restaurant
-
Electronic Town
If a company needs to buy many computers at one time, this is the place to look for. You can buy your computer that meets your needs at a very good price. The kindness of this town is well known to Korean customers.
Section A
Section B
B1
Computer Peripheral, A/S Center
Computer Peripheral, A/S Center
1F
Home Appliance
Communication Device, Cell Phone, Electronic Parts
2F
Home Appliance, Furniture, Wedding Goods
Communication Device, Computer Peripheral, Customized Computer
3F
-
4F
-
5F
-
Sunin Arcade
If you want to buy separate computer parts and build your computer for yourself, this place will certainly satisfy your purposes, and also a lot cheaper than other places. Over 1,200 shops have various parts and products.
Section 21
Section 22
1F
Communication Device, Cell Phone, Electronic Parts
Communication Device, Cell Phone, Electronic Parts
2F
Communication Device, Computer Peripheral, Customized Computer
Communication Device, Computer Peripheral, Customized Computer
3F
Computer Peripheral, Customized Computer
4F
5F
Wonhyo Arcade
You can meet dealers of computers and peripherals in this place. Retailers are usually using these 400 shops, but end users are welcomed too.
Section 4,5
Section 6,7
1F
Electric Product, Home Appliance, Lightning Device, A/S Center
Electric Product, Home Appliance, Mobile Communication
2F
Computer & Peripheral, Customized Computer
3F
Home Appliance, Computer & Peripheral
Najin Arcade
The oldest shops in Yongsan are in here. They are specializing customized computers. Their know-how in electronic business field is second to none. You can choose your products from more than 1,500 shops.
Section 10
Section 11
Section 12,13
Section 14,15
Section 17,20
1F
Lightning Device, CCTV, Electric & Electronic Product
Lightning Device, CCTV, Electric & Electronic Product
Audio Device, Sound Device, Cell Phone, Telephone, Sound Equipment, Fax
Bank, CD-Rom, Game, Fax, OA
Home Appliance, Wedding Goods, Computer & Peripheral
2F
Computer & Peripheral
-
-
-
-
3F
-
Computer Peripheral, Customized Computer
-
-